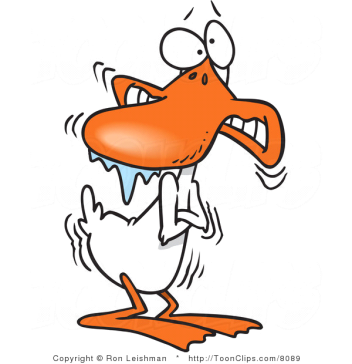 Tips for Working in the Extreme Cold
Wear appropriate clothing.

Wear several layers of clothing. The layers should fit loosely because tight clothing reduces blood circulation and warm blood needs to be circulated to the extremities.
When choosing clothing, be aware that some clothing may restrict movement which, in and of itself, may create a hazardous working situation.

Make sure to protect the ears, face, hands and feet in extremely cold weather.

Boots should be waterproof and insulated.
Be sure to wear a hat.
The goal should be to expose as little skin as possible to the cold environment.

Workers in extreme conditions should take frequent, short breaks in warm, dry shelters to allow their bodies to warm up.
Drink warm beverages and eat warm, high-calorie foods.
Avoid exhaustion and fatigue because they sap energy, and energy is needed to keep muscles warm.
Use the buddy system – work in pairs so that one worker can recognize danger signs.
Learn the signs and symptoms of cold-induced illnesses and injuries and what to do to help workers.